8 Uses for Reclaimed Wood in Your Miami Home
Miami residents are wild about reclaimed wood and how its unique attributes enhance their home décor – inside and out. It's emerged as a new way to upcycle weathered wood and unleash your own distinctive style. Reclaimed wood products tend to make a favorable impression whether you use it on a wall, your cabinets, or – imagine it! – your windows. Searching out some pointers on how to ensure that reclaimed wood fulfills your decorating objectives? We've selected 8 superb ideas for you – all applied to gorgeous effect in Miami homes.
1.Outfit Your Windows with Reclaimed Wood
At Last: that window treatment of reclaimed wood you've had your eye on is now readily available to you. Sunburst Shutters now offers a plantation shutter crafted from reclaimed wood of the finest quality. In truth, Sunburst is the lone company offering you reclaimed wood shutters in the Miami area. We searched high and low for the reclaimed wood you love and used it to create a louvered shutter that's as functional as it is beautiful.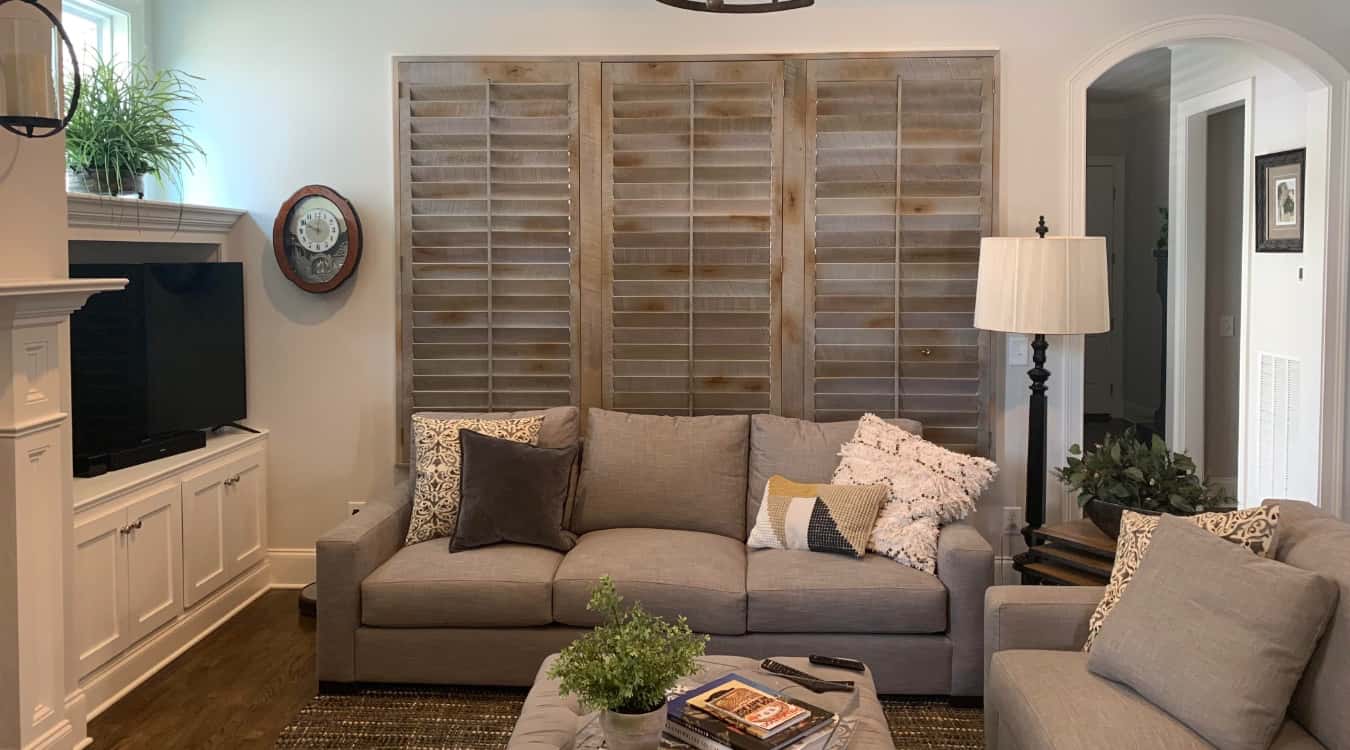 Reclaimed wood can make for a most unique window treatment. You've got a head start, for sure, when your reclaimed wood shutters are a masterpiece in themselves. And Sunburst makes sure they are. You'll quickly discover that their smooth, simple operation is as winning as their look. Tilt the louvers open to let more light in. And tilt them closed to more fully appreciate the weathered look of reclaimed wood on your window. Learn more about reclaimed wood for windows in Miami
2. Reclaimed Wood and Walls
If it's charm you want in your home, reclaimed wood has more of it to offer than just about any other wood option. Reclaimed wood paneling turns your wall into a quiet but compelling showpiece and imparts a warm feel to the room. No matter if you have a bookcase, fireplace, artwork, or TV you want to show off, a reclaimed wood wall will look fantastic behind it and create the very effect you'd hoped for.
3. Reclaimed Wood for Your Floor
Looking to redo a floor in your house? Any wood flooring can add warmth and coziness to a room, but flooring of reclaimed wood has a singular beauty perfected in the time – typically decades – the wood has been left outside to endure the effects of nature. No matter if you love the outdoors or simply love the appearance of weathered wood, you'll be thrilled with what a reclaimed wood floor can do to make your home feel new again.
4. Dress Up Your Cabinets with Reclaimed Wood
Now's the time to give your kitchen cabinets a makeover with reclaimed wood. It's the natural way to dress up your whole kitchen. Every panel of reclaimed wood relates a compelling tale – of many years [[spent in an old building, perhaps, or as part of a barn or fence. And a trace of that story will endure in your reclaimed wood cabinets, crossing your mind at such times when you lay eyes on them.
5. Reclaimed Wood for Tables
Tabletops fashioned out of reclaimed wood can lend a ultra-current, emphatically different look to your dining room or home office. Match the wood tones with your overall interior design for a cohesive look that satisfies you – at the same time it takes your guests' breath away!
6. Using Reclaimed Wood for Bookcases
No matter what other things we might find attractive about them, books make wonderful decorative pieces. Leather, vinyl, buckram, or paperbound books and those with colorful dust jackets look great on a coffee or end table, on a bookshelf, or in a large bookcase. Their pleasant variety is both called out and unified in bookcases of genuine wood, too. And bookcases of reclaimed wood, because of their natural colors, knots, holes, scratches, and other telling features, prove to be a decidedly eye-filling, one-of-a-kind furnishing.
7. Picture Frames of Reclaimed Wood
The rustic, natural look of reclaimed wood is just so appropriate for picture frames. Use it to showcase your favorite artwork and important photos in a most splendid manner. Note also that frames of reclaimed wood can be put together in a multitude of styles, so they'll complement almost any interior look you've created.
8. Reclaimed Wood and Headboards
There's little that can lift the ambiance of a bedroom like a intelligently designed and constructed headboard. There's no prescribed way, as you might expect, to attach a headboard. It can be – and often is – affixed to the bed itself. But a good many homeowners today prefer it affixed to the wall behind their bed. Either way, a headboard adapted from reclaimed wood planking can be especially breathtaking. It's natural tones and imperfections are easily adapted to a broad range of styles, from antique to modern. With reclaimed wood, your artistic talent can truly run free, letting you create the headboard of your dreams!
Find Your Inspiration in Reclaimed Wood
Our goal was to inspire you with these 8 ideas for getting the most out of reclaimed wood. As you might expect, though, we have so many other ideas to share – ideas that pair exquisitely with the reclaimed wood shutters we alone provide in Miami. Our specialists will gladly show you samples of our shutters, answer your questions, and provide you with additional design ideas. Give us a call at 305-520-7515 to arrange your free in-home design consultation at your first opportunity!