Farewell Outdated Window Treatments For Entry Door Sidelights In Miami, FL!
Your entry door is one of the first things a guest notices about your Miami house when they walk up to ring the bell. The sidelights on the sides add to the elegance of the entry door. At the same time, they reduce your privacy. This is where window coverings are a perfect solution for the sidelights on your entry door.
Many Miami residents installed outdated window treatments for sidelights, including blinds or shades. Yet there's a more contemporary alternative: entry door sidelight shutters.
Blinds & Shades For Entry Door Sidelights
Blinds, shades, and other old fashioned window treatments could be the window treatments that come to mind when you consider sidelights. They're available in home improvement stores in sizes that may not be an exact fit for your entry door sidelights. And you're familiar with how to set them up and operate them.
However shades and blinds for sidelights have some concerns to think about before going shopping for them. First, they are known to sway every time the door is used, when the wind bangs the strips against the glass. This results in annoying noise. One way to fix that is to tie them down at the bottom. But this can potentially change the look and do little to reduce the noise. Second, shades and blinds offer privacy but come up short in temperature control. The fragile material does little to block the hot or cold outdoor conditions. And third, shades and blinds don't have the personalized touch that blows a guest away as they come through the entry door. Plantation shutters do.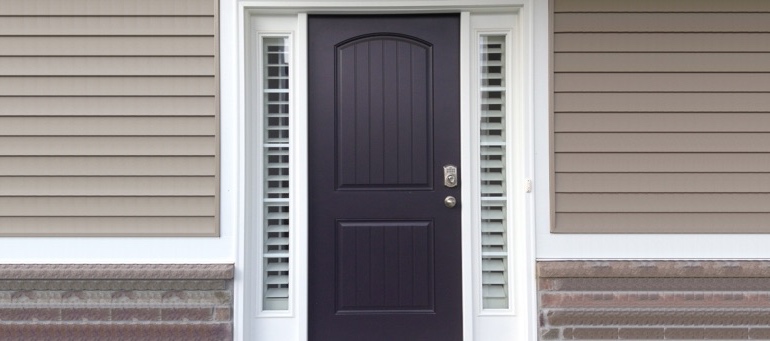 Plantation shutters
are the contemporary window fashion you've been searching for in Miami. Crafted from hardwood or wood substitute, shutters for entry door sidelights are installed on the door's frame while allowing the louvers to move. This way, opening and closing the front door does not create any noise.
When the louvers are closed all the way, plantation shutters give you
complete privacy and control over temperature
. Simply adjust the louvers by shifting the tilt rod to see more of the scenery and the sunshine. And
Polywood®
plantation shutters louvers insulate against 30° of temperature and reduce airflow by up to 45%.
The beauty of plantation shutters for sidelights is more than energy savings. With a wide selection of wood stains, louver sizes, frame styles, and a paint matching program, you can finally the modern look you've been looking for. Our experts aid you in selecting custom window shutters for your entry sidelights. And we'll install them to fit your sidelights flawlessly.
Say Hi To Entry Door Sidelight Shutters For Your Miami Home
Ready to get rid of you traditional window treatments and say hello to shutters for entry door sidelights? And if you are interested in matching shutters for your
French doors
or
patio door
, we have those as well. Call
305-520-7515
or fill out the form below to schedule your free in-home design consultation today!