Plantation Shutters: The Top Patio Door Window Treatment in Miami
No matter if your patio doors are a sliding glass door or stylish French doors, one thing they have in common is their substantial glass panes that give you a clear view out into your yard. However, that much glass can come with issues, such as heat loss, sun glare, and privacy. That's why you need the right window treatment to enjoy the benefits of your windows.
Read about why home plantation shutters are the best patio door window treatments in Miami and how they can fix these annoying challenges!
The Top Sliding Door Window Treatments For Miami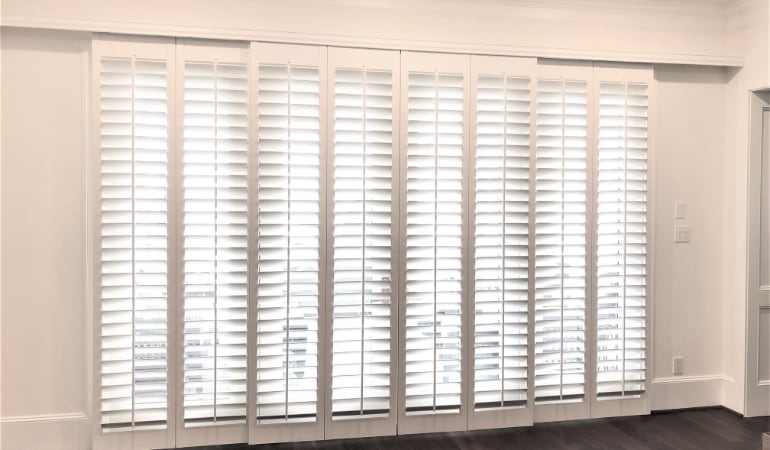 Sliding glass doors are a common patio door for many homeowners in Miami. As their name implies, the doors usually have two or more large windows, one of which slides over the other. While they invite in lots natural light, they are also among the most challenging doors to find treatments for. A lot of glass means a ton of energy loss and privacy concerns -- not to mention the sun glare if your backyard lies to the east or west.
The most effective sliding glass patio door window covers in Miami are plantation shutters. These shutters don't attach to the door itself but rather move in front of it. When sun glare becomes an annoyance, move the shutters in front of the door and adjust the louvers to control light -- or close them all of the way for full privacy. Most sliding door shutters are made from a wood substitute, like our Polywood® shutters, so you even get energy-saving benefits.
Sliding door shutters provide longevity and easy operation, thereby allowing continual activity in and out of the patio. The most familiar configuration of shutters on a sliding door is Bypass. Bypass shutters slide behind each other on a track to open the doorway.
The Most Functional French Door Window Covers For Miami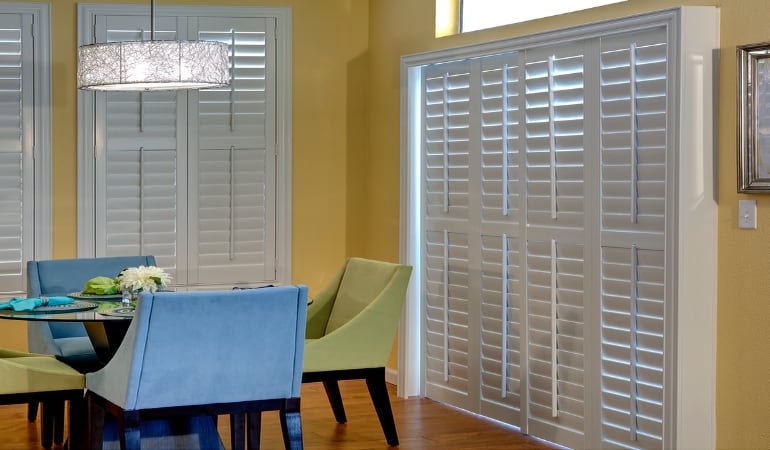 If you lack a sliding glass door opening out to your patio, you may have another common door option: French doors. This style of doorway has double doors that open away from each other. The result might be a tad bit grander than a sliding glass or regular door, but they share similar problems. Substantial panes of glass allow for energy loss and sun glare.
It should be no surprise that faux wood plantation shutters also are the preferred French door window treatments in Miami. They have the same appeal, strength, and energy-efficiency that sliding door shutters feature, except they can affix right onto the French door frame. Consequently, your French door plantation shutter operates a lot more like your standard window shutters, and you don't need to slide them to the side to go out the doorway.
Sunburst Shutters Miami Has The Ideal Window Treatments For Your Patio Doors
Whether you want to upgrade a sliding glass door, French doors, or a regular window door, Sunburst Shutters Miami has you covered. We'll explain to you how our Polywood shutters will lend your patio doors the energy-efficiency and interest they should have. Contact us any time at 305-520-7515 or complete the form below to request your complimentary in-home or virtual consultation.