What Are The Best Window Treatments For Over The Kitchen Sink In Miami?
When you're shopping for window treatments, don't forget about the kitchen -- even if the only window is the one over the sink. If you harbor reservations about the constant spattering of food and water ruining a window treatment over the kitchen sink in your Miami home, install Polywood® plantation shutters. These popular options bring style to all areas but are known to withstand the moisture and heat of the kitchen.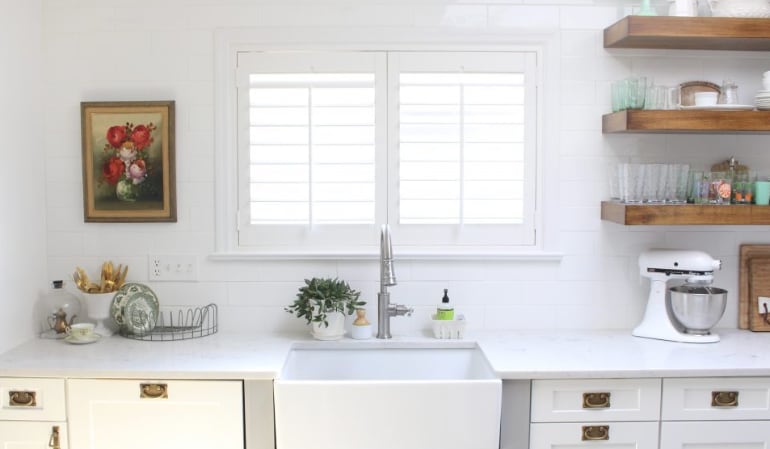 Polywood Plantation Shutters Elevate Every Miami Kitchen
Window treatments over your kitchen sink in Miami should be simple and durable. However, you can still get plenty of elegance when you use popular, faux-wood plantation shutters.
Polywood shutters blend in effortlessly with every kitchen design. They come in in various tones of white that complement your kitchen fixtures and decor, and their firm panels of movable louvers create texture that contrasts beautifully with the the flat elements found in your kitchen. Interior shutters add subtle appeal to both high-end and restrained kitchens and everything in between.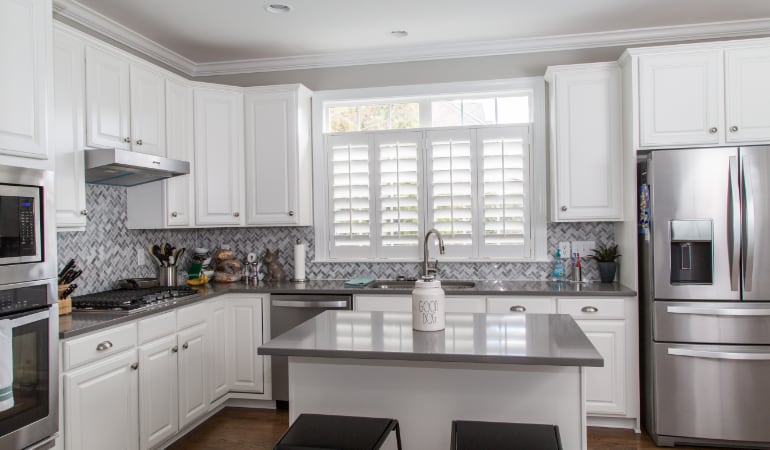 Polywood Shutters Are Resistant To Heat And Moisture
Have you ever seen condensation on your kitchen window when doing dishes or heating water to a boil? That same condensation latches on to window treatments over your Miami kitchen sink, where it can damage standard fabric products as time passes.
Use Polywood shutters instead. The patented construction of Polywood and resilient coating are resistant to a moist and steamy environment. They are totally watertight. They will never warp, chip, or split from high levels of humidity.
Sunshine and weather extremes also won't impact your Polywood shutters. When Installed for the window over your sink, these products are faced with old air and intense UV rays. These long-lasting shutters will never expand or shrink from the cold outside and heat inside, nor will they fade in sunlight.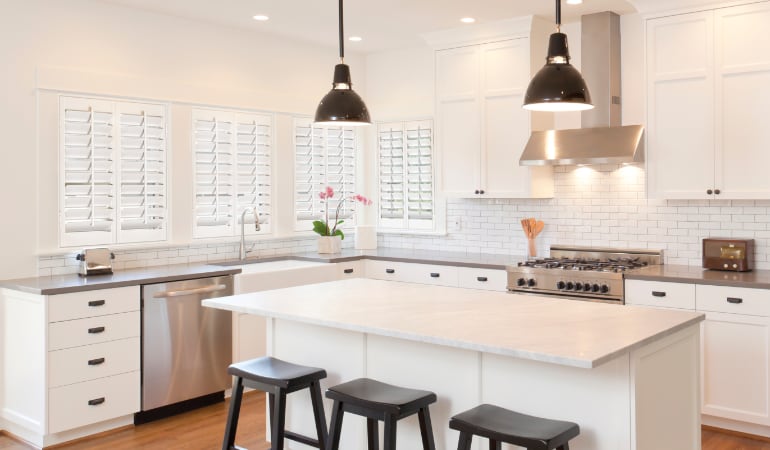 Interior Shutters Give You More Light For Kitchen Work
Good lighting is essential in your Miami kitchen. You don't want to cut or burn yourself because you can't see! Plantation shutters provide the amount of light you want and are a cinch to adjust. Just swing open the panels or use the tilt rod to move the louvers up and down. You don't have to worry about twisted, hard-to-adjust cords or pull bars that are too high to reach when you need more illumination.
For the brightest light, let the panels swing open entirely. If the sun's rays are a bit much, close the panels and move the tilt bar to your desired light settings. You can also shift the slats to eliminate unwanted glare in your kitchen. If you want to avoid strangers looking into your kitchen at night, shut the louvers tight for complete seclusion.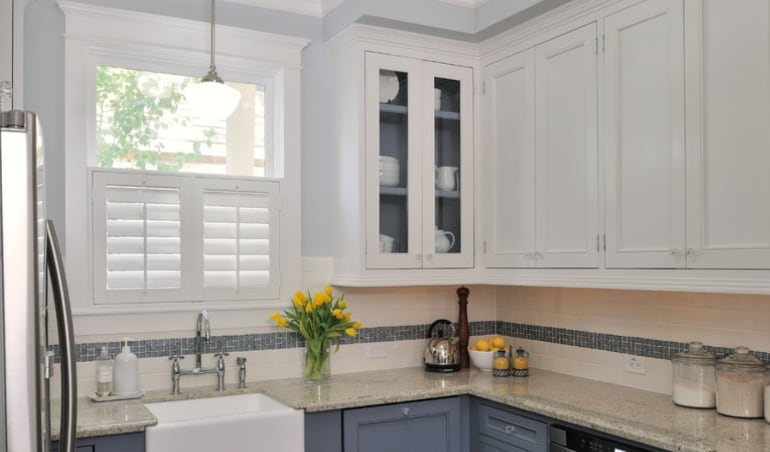 Polywood Shutters Are Simple To Clean
Kitchen surfaces collect food particles and grease stains. The window treatment over your Miami kitchen sink must be easy to clean. When taking this into consideration Polywood shutters are perfect on a kitchen window. Their hard, smooth finish won't absorb stains and odors as fabric shades do. A simple wipe with a damp cloth, and they're clean again.
There's no need to waste time carefully poking your cleaning wipe around the openings as you would with traditional metal blinds. Plantation shutter slats are durable, and you can customize with wider options that create large openings for your hand and cleaning cloth.
Get The Perfect Window Treatments For Over Your Kitchen Sink In Miami At Sunburst Shutters Miami
Sunburst Shutters Miami provides the perfect solution for every window -- even the one above your sink. Confer with our specialists about what you envision for your windows, and we'll be glad to help upgrade your kitchen. Reach out to us at 305-520-7515 or fill out the form below to get started.