Your Guide To Window Treatments For Your Living Room In Miami, FL
The living room is where you put your decorating style on display. And gorgeous windows are your chance to mount a stunning window treatment to emphasize their shape and match your furniture.
You'll want to take into consideration your window's shape since many living rooms have beautiful arched or specialty shaped windows. You'll also want to consider how much privacy you desire, how you want the view outside framed, and how much light comes through them. Look for living room window treatments that give you complete control over privacy and light so that your guests get the feeling that they're right at home.
Your options for living room window treatments in Miami include:
Living Room Shutters In Miami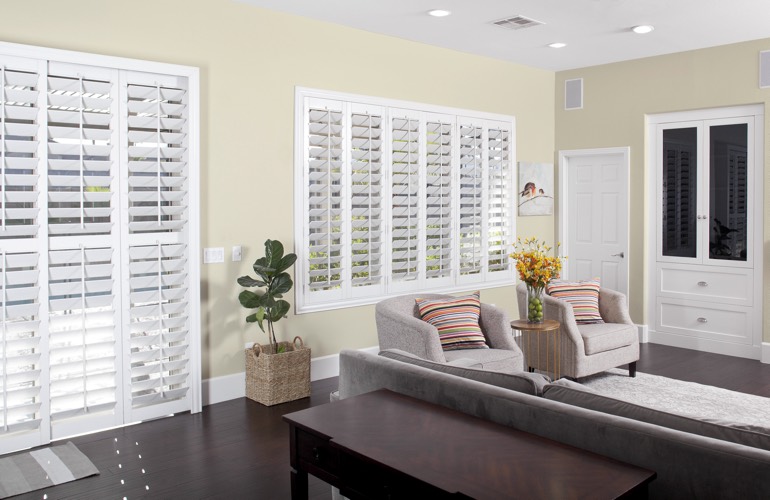 Unlike shades, draperies, and blinds, living room shutters match your octagonal, arched, circular, triangular windows. They can be even installed on french doors. They're custom built to your window's specifications. All the corners, angles, and curves are intact. And your guests will take notice of your eye for architecture - and appreciate that you thought about their privacy.
If your living room is formal, choose window treatments that are more sophisticated. Plantation shutters feature broad horizontal louvers enclosed in a frame. Whether you choose a traditional white paint for Polywood®, a deep stain for Ovation® wood, or weathered reclaimed wood, the resulting window covering matches your living room's décor.
If your living room will be used to entertain, how functional a window treatment is has as much weight as how beautiful it looks. You can adjust the shutter louvers using a tilt rod to get more or less light. And you can swing the panels completely open to reach the window.
Living room shutters can keep you and your guests pleasantly warm all through the evening. Just close the shutters tightly for temperature control. And with Polywood shutters for living room shutters, you're getting ultimate energy savings.
Barn Doors For Living Room Windows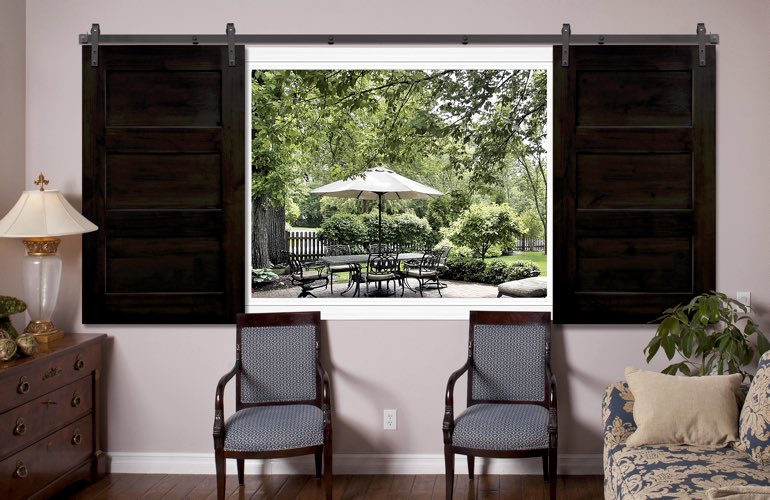 As window treatments,
sliding barn doors
bring out the rich color palette of your living room. Pick midnight black paint or an espresso stain to contrast white walls and light colored furniture. For living rooms with eclectic furniture or dark colored walls, a barn door with snow white paint or a fruitwood stain might work best.
Enjoy the scenery when you glide the barn door panels on a track. Once the panels are on both sides of the window, they become standalone works of art, framing the view beautifully.
Shades For Living Room Windows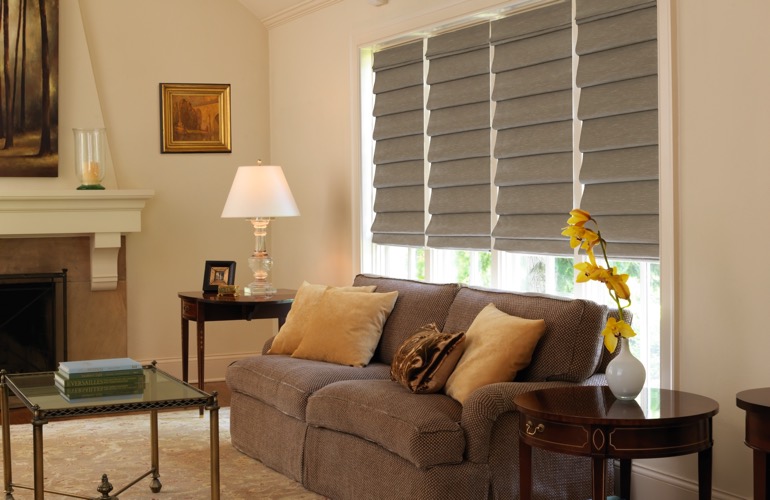 Shades
work great when you're looking for living room window treatments to highlight multiple colors or specific colors. Roman shades, the most popular kind of shades in Miami, have fabrics and patterns that include a range from contemporary to classic. And they add appeal to even the highest of living room windows.
But some shades may not be effective at blocking out light coming through the window. Ask a window covering expert as to the room darkening capabilities of a certain shade.
Looking For More Window Treatment Inspiration For Your Living Room In Miami?
Find your inspiration in this idea gallery that includes photos of window treatments for living rooms and other rooms in your home. You can look through samples of our work from around Miami and see what works best for your living room. And if you're interested in talking with a window treatment professional about your living room - or any other room in your home, give us a call at 305-520-7515 or fill out the form below!